| | | |
| --- | --- | --- |
| | | |
| DTU Space | University Bergen, BCSS | University of Valencia |
| DTU Space uses space as a base for research and technology development in order to learn more about the Universe and Earth, to study climate and environment on Earth and create results and technologies that benefit society. | Birkeland Centre for Space Science (BCSS) is a Centre of Excellence (CoE) at the University of Bergen (UiB), that also includes scientists from NTNU and UNIS. The objective of BCSS is to understand how Earth is coupled to space. | Our university, founded over five centuries ago by the Juries of Valencia, has become a modern, public university that teaches all areas of knowledge: social, economic and legal sciences, experimental sciences, engineering, health sciences, educational sciences and the humanities. |
| | | |
Latest news
Space station detectors found the source of weird 'blue jet' lightning
Science News article by Maria Temming: A 'blue bang' sparks an unusual type of lightning in the upper atmosphere. Scientists have finally gotten a clear view of the spark that sets off an exotic type of lightning called a blue jet.
Related Link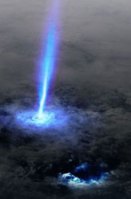 Fri 22 Jan 2021, 15:58
---
ASIM Nominated amongst top 5 STEM achievements of 2020
The Danish engineering monthly 'Ingeniøren' published its round-up of the year 2020, and nominated in the top five most important achievements of 2020 was ASIM and the ASIM team's explanation of how Terrestrial Gamma Flashes are formed above the world's most powerful thunderstorms. Understanding of the physics and chemistry of thunderstorms is an important part of our understanding of the Earth's atmosphere and climate.
Related Link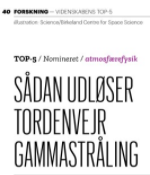 Thu 17 Dec 2020, 11:56
---
Storm hunter turns two
ESA's Space and Exploration series highlights ASIM's two years in space
Related Link

Tue 16 Jun 2020, 06:53
---
Space To Ground: The Storm Above
NASA's Space To Ground series highlights ASIM onboard the ISS
Related Link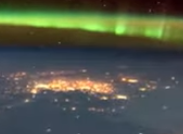 Mon 15 Jun 2020, 07:48
---
ESA: Terrestrial gamma-ray flash
ESA's Science and Exploration series highlights Terrestrial Gamma Flashes as seen and imaged by ASIM
Related Link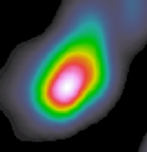 Thu 11 Jun 2020, 16:16
---
View all news